I am currently working on a curbless shower bathroom, and have already ordered received the glass for the shower. I went with the U-channel installation method for the frameless glass - but with a variation. I installed the U channel before I started tiling so that it will be buried and almost invisible when I am done tiling. The glass will sort of appear to flow into the tile. I decided to go with a door that swings both ways and will be using CR Laurence brand vinyl bulb seals on the edges and a large bulb seal on the bottom as a sweep. So that the sweep wouldnt hit the floor I came up with a detail that may work for you. Instead of creating a hump in the mudbed I am using matching pencil liner molding on the floor under the door. It will create a 3/16" tall by 3/4" wide hump that should stop water from flowing under the bulb seal and simultaneously allow it to be 3/16" above the rest of the floor at all times. Having it high enough to allow a bath mat probably isn't feasible though. You need a good 3/4" from the bottom of the sweep for a bath mat. That means a 3/4" hump theshold - which kind of defeats the purpose of curbless IMO. It would also be a tripping hazard, since it would be small enough to not see to step over, but big enough to catch your toe on. In my case - I dont want a bathmat covering up my $20 a sq foot marble floor - so the will be none of the sort to worry about
In any case you need to be careful about the deductions done when measuring for the frameless glass. If you go with a glass company that does the measuring and deductions for you just make sure to spell out to the guy that more needs to be deducted off the bottom of the door to accomodate the threshold.
Below is a pic of my pencil molding detail. I should be done in a few weeks so I'll let you know how it works out.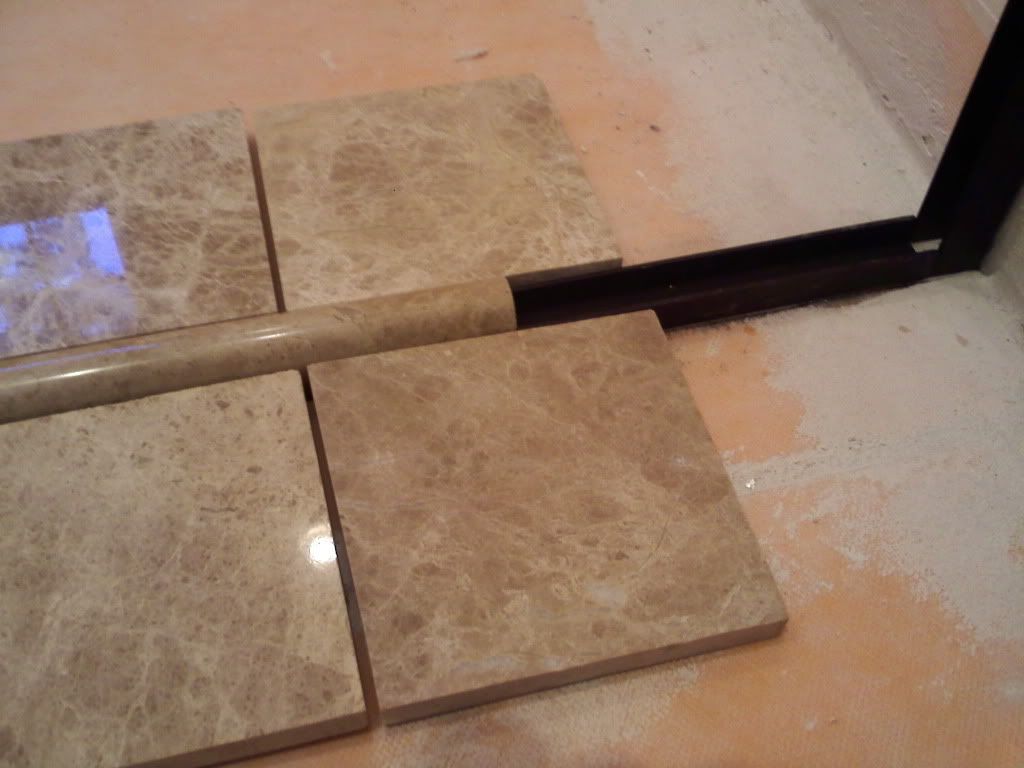 Here is what the U-channel looked like attached directly over the Kerdi.