IF you figure out the max distance you can move it, then actually the move itself is not that big of a deal...it's just grunt work and takes time.
I used a 4.5" angle grinder with diamond wheel ($10 at Lowes) to cut a groove about 1/2" deep, outlining the area I needed to cut out. Then used a demo hammer (oversized hammer drill) with a chisel attachement ($15/day - took one day) to bust out the concrete.
Go a bit over wide (I cut out an 8" wide channel for 4" pipe) so that you have some room to work. Dig a trench in the backfill and lay the pipe. Be sure to pack the fill back in under the slab (I just used a maul as a packing device) to avoid any settling and mix up some Sakrete to fill in the cutout. 3 inches of Sakrete is plenty...
Same process for shower drain. Just be sure for both that you have an idea of WHERE your sewer line comes in from and exactly where you want it to end up.
For both, you can stub out pipe, and put a cardboard sleeve in while you pour your concrete...that lets you fine tune the height of the finished drains when you're absolutely certain of finished floor height...
Here's a couple pics of my (messy) project when I realized that neither the shower nor vanity drains were exactly where I wanted...and had to add vents to both, inside the closet walls...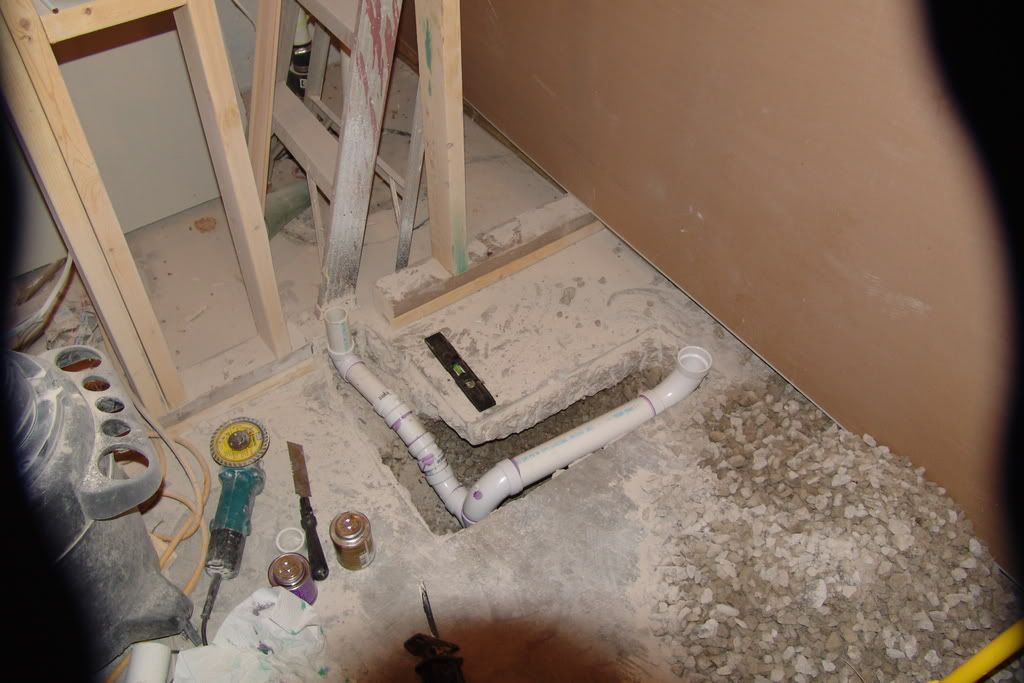 I've no photos of the WC drain move, but it's the same process...don't worry about getting the surface glass smooth, assuming you're tiling over it, it won't matter anyway.